Residential Awnings
We have earned our reputation for manufacturing high-quality awnings, canopies and screens, and installing them quickly and well. That's because we care about every one of our customers. Our business is about fulfilling your unique needs. We offer warranties on our products and workmanship. Of course, a warranty is only as solid as the company that stands behind it. Well over nine decades of experience have made us good at what we do – and we aim to be serving our customers long into the future.
Benefits
Let Your Awning Help Save on Your Energy Bills.
An awning's benefits extend inside your home too. An awning will keep your energy costs down by blocking the sun's heat in warmer months. Studies have shown that an awning can reduce interior heat-gain by 55-65 percent on a south-facing window and 72-77 percent on a westerly exposure.
Plus, you can enjoy the beauty of the outdoors from inside, since you won't have to close blinds or draw drapes as often. A retractable awning lets you decide how much sun to let in, allowing Mother Nature to contribute some warmth to your home. This is a great solution for early mornings and throughout the cooler months. Spring, summer, and fall – your awning will serve you indoors and out.
Retractable Patio Awnings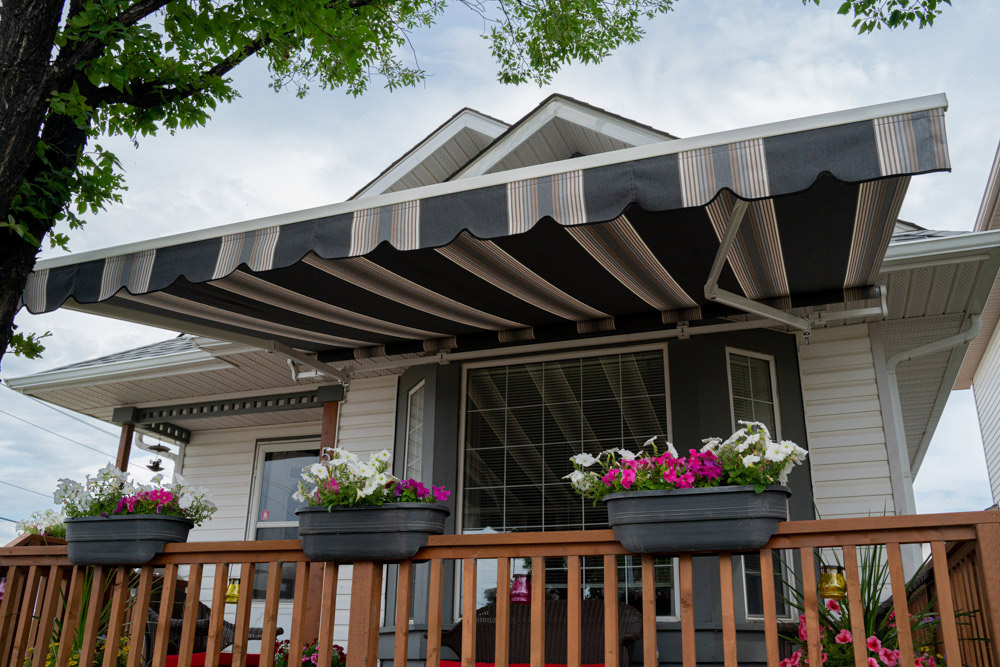 Summers in Alberta are beautiful – but they're so short, and we all know how the weather can do absolutely anything. A patio awning can help you extend that Alberta summer and weatherproof your planned backyard social events. Some of our customers have told us that adding a patio awning was like creating a whole new room in their house.
Enjoy outdoor living on your deck or patio with a Stein lateral-arm awning. You'll be able to extend or retract your awning with finger-touch controls, giving you shade when you need it, or sun when you want it. All without any vertical posts encumbering your outdoor living space.
Our awnings are manufactured in Calgary, utilizing long-lasting contemporary fabrics in patterns and colours to complement your décor. Frames are of aluminum, and all hardware is supplied by reputable manufacturers.
---
Pergola Awnings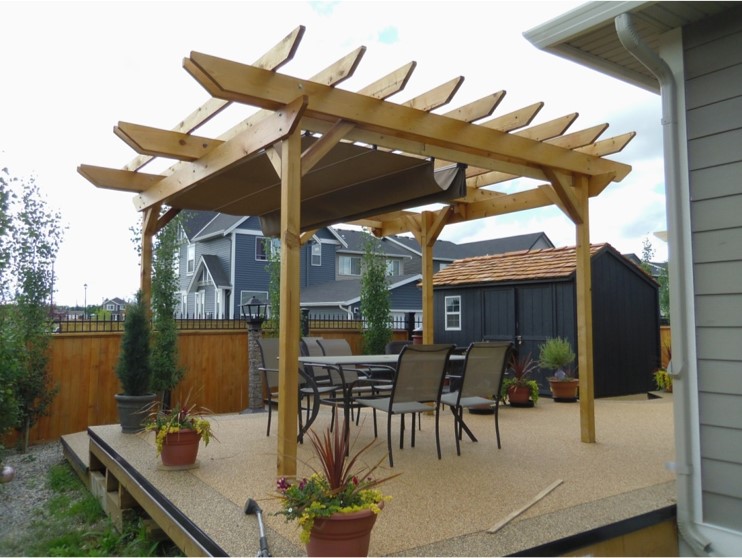 If you already have a wooden trellis and want a retractable system to enclose it, our retractable terrace awnings can be attached to existing wooden framework or can be installed using their own frame with posts.
The awning is not subject to damage by wind or weather as the built-in aluminum guide tracks keep the fabric under constant tension. The awning fabric pulls back into an aluminum cassette, so it can be left up year-round, protected from the weather.
---
Window Awnings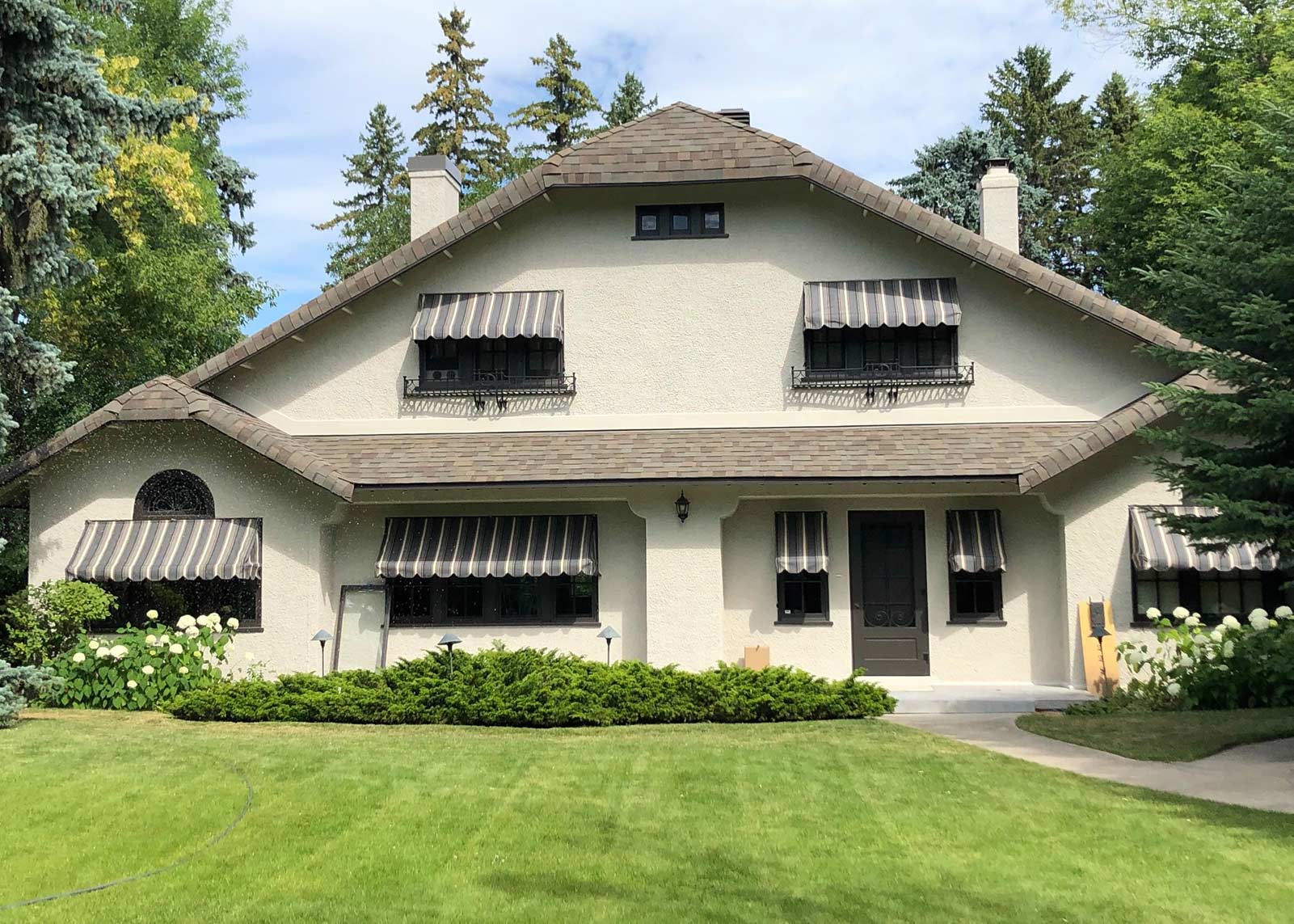 Window awnings are the traditional sun-shade device going back centuries. Fabric window awnings are attractive, colourful and add a charming third dimension to the windows on your home.
Window awnings can be fixed or retractable. Retractable awnings allow you to control your sun exposure, and can be rolled back by hand or with a motor. Or, you can opt for the traditional look and functionality of a standard, fixed awning. Our solid-framed, custom awnings can be made any shape to enhance your architectural values. Fabric awnings lend warmth and softness to your windows, all the while shading for cool comfort and greater privacy.
---
Screens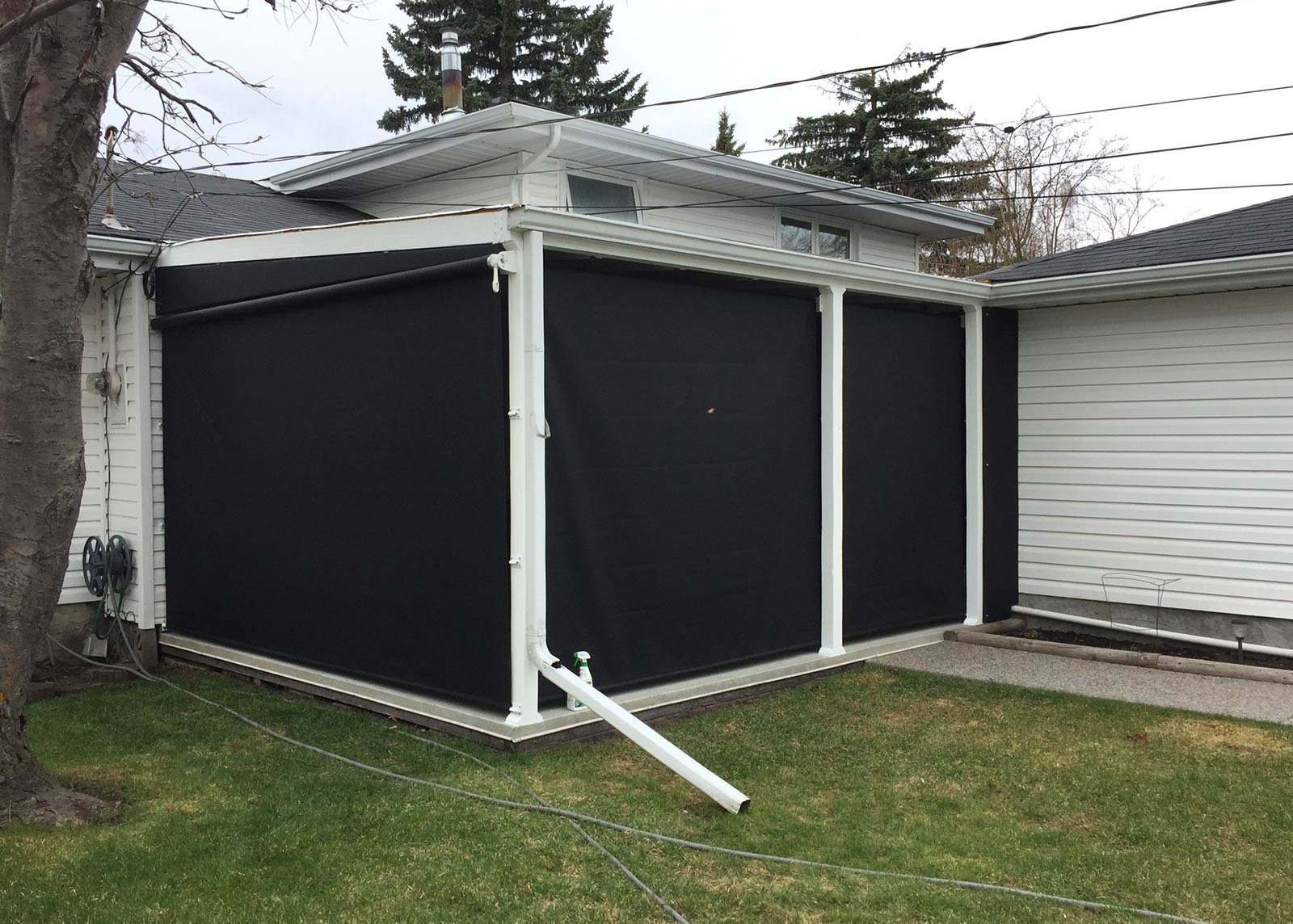 Exterior screens are great on so many levels. They add a little privacy to your outdoor living space. They can cut down on wind. They keep out mosquitoes and other pesky insects. And they can help keep pets and young children safely where you want them.
We can fit all your needs. Our professional sales representative will come over and measure up what's needed, and we'll custom-manufacture a solution to fit your space. You can choose from a wide selection of mesh or solid fabrics, and we'll advise you on what material will work best for you. Whether you desire shade for your patio, protection from the wind or privacy from the neighbours, we have an exterior screen that will work for you.
---
Links –
Facebook
•
High Quality Manufacturing
•
Installation
•
Care & Maintenance
•
Service & Repair