Materials
Calgary Tent & Awning is pleased to offer a range of high-tech as well as traditional fabrics covering a range of needs for its commercial and residential awnings and screens, tents, and custom coverings. We'll provide the advice you need to select the best combination of aesthetics, durability, cost-effectiveness, waterproofing, weather-resistance and special characteristics such as flame-retardancy for your particular application.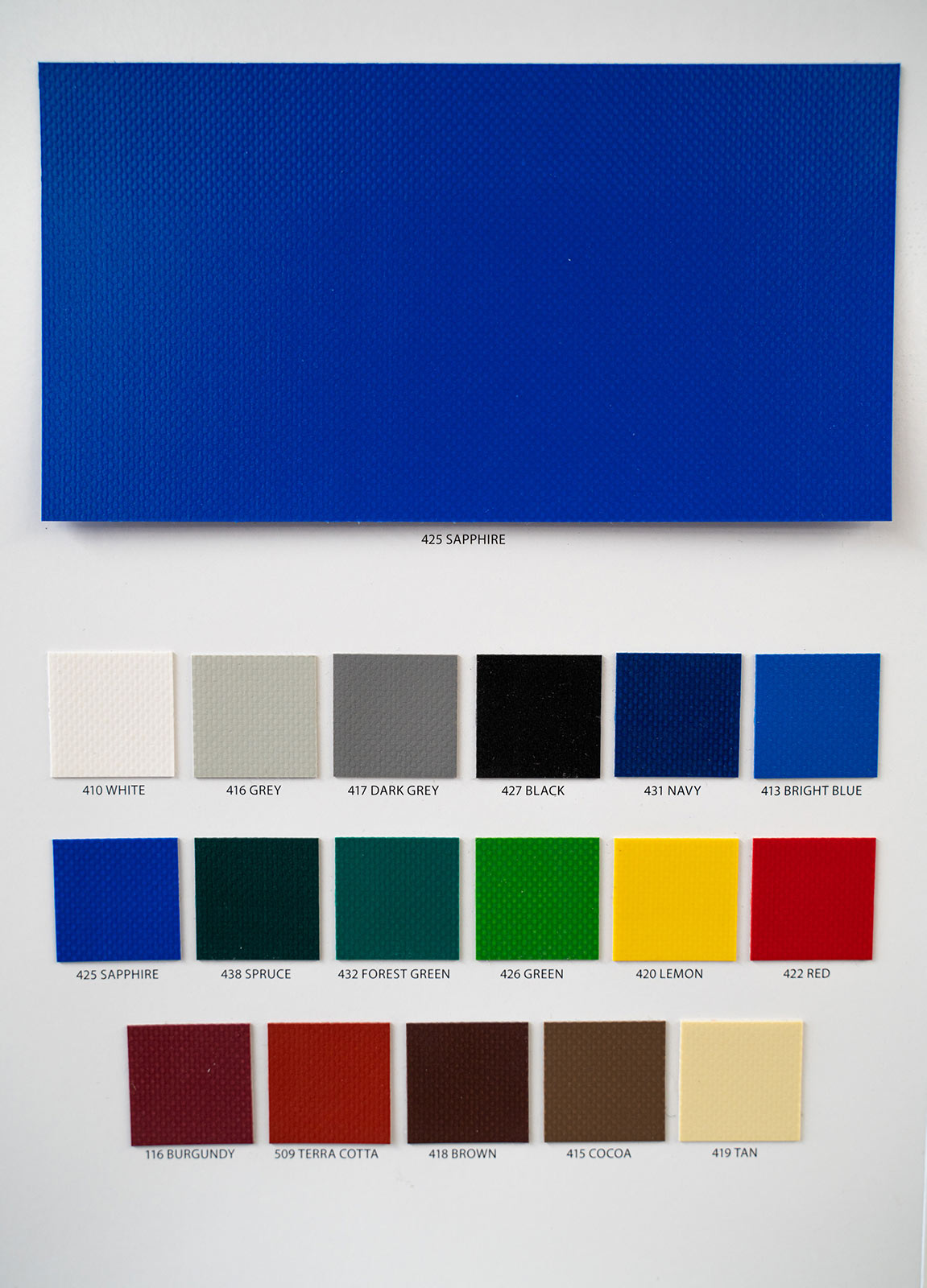 Vinyl-coated polyester
Vinyl-coated polyester mesh
Vinyl-laminated polyester
Unsupported vinyl
Woven acrylic
Canvas
Ounce duck-canvas
Numbered duck-canvas
Waterproofed canvas
Vat-dyed canvas
Woven polyethylene
Knitted shade cloth
High temperature fibreglass-silicone cloth
Nylon
Golf netting
Vinyl-coated polyester
The polyester part of "vinyl-coated polyester fabric" is a "scrim" (or strong, coarse weave) of polyester yarn, coated with liquid poly-vinyl-chloride (PVC). These components meld to create a durable fabric that has high tear and tensile strength, is resistant to abrasion and can be made in a variety of colours. The PVC can be formulated to remain flexible in extremely cold conditions, can be made flame-retardant resistant to ultra-violet light, and can incorporate special properties or coatings to meet specific customer requirements.
Because of these characteristics, vinyl-coated polyester fabrics are used for truck tarps and vehicle covers, tents, industrial curtains and covers.
Vinyl-coated polyester mesh
Open-weave mesh is fabricated using much the same process as vinyl-coated polyester above, except the polyester scrim has a coarser weave in the mesh, widening the space between the intersections of the yarn. The resulting mesh fabric is used for window blinds, wind screens, truck tarps and and other applications where air and light are intended to pass through the fabric.
Vinyl-laminated polyester
The fabric's polyester component is a scrim of interwoven polyester yarn. A sheet of PVC is then laminated to each side. These components meld to create a durable fabric with good tear and tensile strength. In addition, the laminated PVC sheet is the perfect substrate upon which to apply varied translucence properties or fancy stripes, patterns, colours and graphics.
Commercial awnings and/or back-lit awnings are commonly made of vinyl-laminated polyester.
Unsupported vinyl
Unsupported vinyl (i.e., without a polyester scrim) is commonly used for tent windows, welding curtains, strip-doors and other applications requiring see-through characteristics. Unsupported vinyl is available in a various thickness and colour tints.
Woven acrylic
Woven acrylic is the consummate awning fabric because it conveys a rich, soft look that remains attractive for many years. Brand names like Sunbrella, Dickson, Tempotest and Top Notch are all woven-acrylic fabrics.
Most brands now have a 10-year warranty against shrinkage and/or fading. The fabric tends to last upwards of 15 years even on awnings that are exposed to the weather full-time.
Colour-fastness, strength and ultra-violet resistance are properties of acrylic yarn, which is then woven into fabric containing fabulous colours, stripes and textures.
Canvas
We stock two types of unbleached cotton canvas: single-fill ounce duck and double-fill numbered duck. The material is fabricated into end-products and/or sold as roll-goods or cut-yardage.
Canvas has a rich history stretching back hundreds of years, reflecting the wide applications of this sturdy plain-weave fabric in sails, tents, clothing, luggage and many other uses. Choosing well means you'll need to understand three key terms:
"Canvas" originally meant cloth woven from hemp fibers. The similarity between the words "canvas" and "cannabis" is no coincidence and betrays the fabric's origin. We still supply hemp canvas, by special-order, to customers who specify it. Normal canvas nowadays is made of cotton or linen;
"Duck" is derived from the Dutch word "doek", meaning cloth; and
"Fill" is the yarn that is woven back and forth across the width of the fabric.
Ounce duck-canvas
The weight designation refers to ounces per square yard. We stock 10-ounce and 12-ounce single-fill cotton duck.
Ounce canvas is commonly used for end products that are not subject to extreme stress and abrasion, where substance and natural fibers are favoured. Stage drops and artists' painting surfaces are typically made from ounce canvas. The fabric will shrink after being exposed to moisture and sometimes this controlled-shrinking is done intentionally to achieve a tightly-fitting surface.
Numbered duck-canvas
In the case of this fabric, a lower number denotes a heavier fabric. The #8 cotton duck stocked at Calgary Tent & Awning is heavier than the #10. Both are double-filled with multiple-ply yarn.
Numbered duck is used on end-products that must be durable and will be subject to abrasion. Cash-bags, hose-wraps, work-table covers and ironing-board covers are examples of applications where numbered duck is used.
Waterproofed canvas
Wax waterproofing imparts that distinctive smell to canvas that you might remember from your days of tenting at summer-camp. More contemporary silicone-based waterproofing is less pungent and just as effective. We stock 10 oz. duck treated with either wax or silicone-based waterproofing.
Vat-dyed canvas
We stock 10 oz. vat-dyed canvas in royal blue, red, yellow, black and green.
Woven polyethylene
Narrow, woven-polyethylene tapes are inter-woven into a fabric for use in products with an intended short-term use. The fabric is reasonably durable and is coated to make it waterproof. However, woven-polyethylene degrades in ultra-violet light when used in outdoor applications.
Knitted shade cloth
Shade sails and light-weight tension structures are made from extremely strong, knitted shade-cloth made from high-density polyethylene. The fabric incorporates the latest in ultra-violet stabilizers which improve colour consistency and colourfastness and extends the life of the fabric. A 12-year manufactures warrant is offered on this fabric.
High temperature fibreglass-silicone cloth
Silicone cloth is used in applications were high resistance to extreme heat is required. For example, 32 oz. fibreglass-silicone cloth is specified to withstand temperatures up to 535 degrees Celsius. The fibreglass base fabric has been coated with a specially formulated silicone rubber compound that provides greater abrasion, puncture and tear resistance.
Nylon
Nylon is a very common and successful fabric, being the world's first successful synthetic thermoplastic polymer (and also known as polyamide). The type and weight of nylon used for a custom product depends on the end-use. Nylon is versatile, ranging from ballistic nylon for equipment bags, to flag nylon for banners and flags, coated nylon for waterproof items and lightweight rip-stop nylon for tents.
Golf netting
For those who want to create their own golf practice facility indoors, we stock 10'-wide, bulk golf netting. The 7/8" netting is made of heavy-duty, knitted polypropylene. The netting withstands and contains golf shots and creates a black background against which white golf balls are easily visible.